I was banned because I tked the YTMND fellow too many times. He kept mic spamming, team wounding me and shooting in spawn. I retaliated by TK. Didn't know i'd get banned. Was my only defense without an admin on, Sorry!!
---
---
Posts: 1482
Joined: Wed Aug 17, 2005 9:37 am
Nice...
This is your Steam ID: STEAM_0:0:2947285
You can get it by typing 'status' in console while in-game. Alternatively, you can look up
your page
in the stats, it's there too.
Autobans are temporary.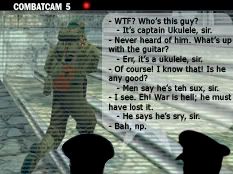 ---
Posts: 1925
Joined: Thu May 26, 2005 8:05 am
Location: Bellingham, WA
However, they can quickly progress to permanent.

Please, DO NOT tk on purpose, EVER, on our server. Not even in retaliation.

If you have an issue with another player, please report it in our "Misbehaving Players" section, and we can take care of it.

Thank you.
---
---
I am pow but i've just came back to playing after being gone for about a year or so. And I still don't have much time to play. Calm down it was some fool that everyone that was playing asked me to kick. I'll make sure to just leave next time because i can't promise i wont tk those fools
---
Who is online
Users browsing this forum: No registered users and 1 guest