Quite rediculous really, I don't see what problem cursing causes, they are just words...

Also, I did not see that rule in the server start up screen, and your rule page on your website is borked. So, wtf?


In-Game Name: Bagel
Steam ID: STEAM_0:1:80259 <-- yeah, I'm pro.
Time of Ban: Thursday night sometime


Now, if I do get unbanned, I will probably still say the words, "fuck" and maybe "damn" ocassionally. I'm not a douche to other players on the server, I'd say something along the lines of "fuck that" rather than "fuck you." Im a good player, I put teamwork infront of score, I'm nice to people, and I'm not a noob.

If my (and most of the game-playing, english-speaking world) words are too strong for this apparently sensitive server, then keep me banned.

Otherwise your server is great, good maps, mostly good people, constant flow of people. Maybe a few over-zealous admins.

Come on though, banning swearing? Are we in fucking middle school? I'm not sorry for cussing, I would like to enjoy this server though, and I promise that nothing I do will cause a ban, outside of swearing. Don't be pussies.

Thanks.
---
---
---
Posts: 1482
Joined: Wed Aug 17, 2005 9:37 am
It's stated in the motd which is displayed every time you connect to the server. Please read it - especially when you keep asserting it's not mentioned anywhere.
You're certainly welcome to give your opinion on a rule on the forum, though doing so from an unban post is probably not the preferred method.
If you can't "control it in the middle of fighting off nazis", do yourself a favor and don't press the push-to-talk/say key. Problem solved - that was hard!
The ban might have been temporary (1 week). If it was a perm, since it seems you're not ready to change your attitude, I fail to see any reason to lift it at this point (not my call though).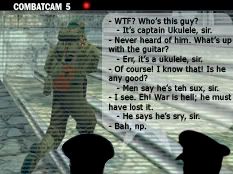 ---
Ah, I read that when I first joined the server, didn't really notice that one though, my bad. I just picked up DoD again.

I would have corrected myself, but I couldn't log on to the server to view the MOTD. I tried to view the rules here, on your website, but I got taken to a 404.

Oh, and I was typing, not saying it into the mic.

I just want a good server thats man enough to read swear words...
---
IMO you just don't get it. It seems to me that all you want to
do is vent some frustration. Your arguments for wanting back
on the server are weak and show us that you have no intention
to abide by OUR rules on OUR server. Don't you think it would
take a bigger person who normally swears to restrain themselves
from swearing not the other way around as you have shown us.
Why do you feel the need to swear anyway? I understand that
it slips from time to time but, when you type it in that is not a
mistake. So if you can't follow our rules then you might find it
better to just move on down the road and find a server that will
let you swear. Mkay.


-smitty
---
Then find another server. I am pretty sure I am the banning admin. I had just banned another individual after telling him to watch his language several times and like you he felt he did not have to follow the server rules. You on the other hand purposely typed something like fuck fuck mother fuck fuck fuck etc after I had banned him. Since you felt that you were above the rules and decided to act like a asstard, you can now go find another server to play on. Have a nice day.
Kaminazi: c'mon guys, how ****ing long does it take to catch on that darkness is knifing you every time you smoke to grab the flag
---
Posts: 2787
Joined: Fri May 27, 2005 4:08 am
Location: Boise, ID
At first, upon reading this thread, I was feeling a little sorry for your situation and may have tried to come to your defense. But if you blatantly flaunted a rules violation to one of our admins (especially DArkness) to test their resolve, I think you may have blown it.

When an admin is asking people to watch their language and having to resort to the kick/ban to stop them, ask yourself, is it wise to taunt them at this time?
"The only way I'm going to see some action is to bust myself to private"
---
Posts: 1925
Joined: Thu May 26, 2005 8:05 am
Location: Bellingham, WA
You might wanna check those screens when entering other (lamer) servers. They got rules-n-stuff in them. Interestingly, when they go out of their way to post said rules, they actually expect players to follow them!

Have fun out there.
---
---
Posts: 2029
Joined: Thu May 26, 2005 8:40 am
I think this type of personality is reserved for IT recruiters. It's a variation on the bully solicitation I guess but it goes something like this:

I have 3 very lucrative positions for (insert technology) gurus in the (insert shitty part of town) area. If you don't have (insert freakishly trendy acronym) experience then you had better get some because that is the future. I am a no bullshit, no nonsense serious recruiter type so you had better read this job ad as if your life may depend on it, because it does. Losers and non-self starters need not apply. You must have 10 years of (name of technology that has only been in existence for 2 years) experience. Must be team oriented and a people person with good communication skills. PhD preferred but BS or Master degree accepted with enough experience.
Nobody expects the Spanish Inquisition!
---
The way I see it is...no swearing in game is a server rule and thats it in a nutshell. Thats our rules, kids play in the server too...they dont need to hear or see that kind of crap. Play somewhere else where its allowed.
---
Who is online
Users browsing this forum: No registered users and 1 guest